In today's business environment, web presence is a "must". Whether it is a small static, brochure based site or a large dynamic, CMS based, with many end-user interaction features, its aesthetics, functionality, content quality and some other factors are going to decisively shape and define the business' image and standing in the market.
We offer solutions that satisfy your needs. This can be designed and developed from scratch according to your specifications or based on an existing template adjusted to your requirements, or even redesigned from an existing "neglected" or unsupported web site of yours. It can be a blog site or a fully functional business web site perfectly suited for your web marketing needs.
1. SMARTY BASIC CUSTOMIZED WEB DESIGN & DEVELOPMENT PACKAGE
Static Website is perfect for small 'brochure' style mini-sites and sites that plan to stay unchanged for long periods of time, as they contain fixed code, and the content of each page does not change unless it is manually updated by the webmaster.
Content Management System (CMS) allows you to save money in the long term by making basic content changes by yourself if you choose, as the content from the presentation and layout is separated.
The package includes:
• Home page layout (text and images provided by you)
• The Site is custom designed to your specifications
° Research and Information (competitive analysis, site structure, wireframes)

° Visual Design (prototype with one design direction/proposal and revisions) including content, graphic layout, basic graphics, color schemes, navigation and e-mail links

° email enquiring/contact form

° Page Coding (turning designs into HTML and CSS and any other code language per case)

° Testing of site on local server

° Upload to remote Host Server

° Optimization for search engines such as Google®
For additional fees, custom design graphics are available. These can be logos, photos, banners, animations, and interactive graphics. Additional images can be scanned and added.
Also, web support services and site maintenance can be provided.
Customer interaction forms and custom JavaScript functionality are available too.
The cost of domain name registration and site hosting (web space) for your site is NOT included in the package prices. For more details see the "Web Support Services" information on this page.
PAGE EXAMPLES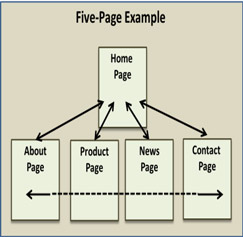 2. SMARTY TEMPLATE BASED WEB DESIGN AND DEVELOPMENT PACKAGE
This option is for most small business clients or individuals wanting a web site but have budget constraints. In most cases, the site is built using a pre-made template with slight customization to fit the client's needs.
Both, a Static site or a Content Management System (CMS.) site can be built based on a pre-made template. There are a good number of free templates available to choose from.